I would like to thank everyone who understood my last blog and for all the messages of encouragement which I can assure you helped me. I have made lists, yes, even more than normal and chatted to dad who is helping me to tick off items on my lists. Progress will be slow but the relief I felt when some of my issues could be worked around really lifted the weight I felt on my shoulders. Both of us went to a garden centre yesterday, to purchase a toy for dad and his new found love of climbing trees. I should add his yearly trimming of the trees in our garden, and he climbs up the middle of the tallest one, refusing to let my brother in law take this responsibility. We also discovered a furniture shop we had passed before but actually didn't realise it was there. I think both of us need a holiday. suffice to say dad's toy may end up costing a lot more as this shop has furniture of the same quality as the shop we loved but has since closed, Fultons. Tape measure needed, but not for knitting this time. It was too hot and sunny to be out for photos as despite me feeling cold I don't like the excessive heat or being out in the full sun. In the evening, things changed and this is why I have decided to add a blog post today.
I promised I would blog when I had something to share even if it doesn't involve a walk, nature or scenery (although the venue was pretty) This is a fun blog, to share some sneaky photos of the other half of Along came dad - dad! We had a short time out in the evening sun for a photo shoot for a project which I cannot share just yet but I thought I would turn the lens around from focus on me to focus on my photographer. A lovely little church nestled in a nearby village was our chosen location. I don't have photos of the church or around it as I was on the other side of the lens, listening to my director and wondering if he knew how much I didn't like to be in photos!
I had my iPhone with me and took the opportunity when I thought the stressful part was over (dad got me back on this point but he didn't know what I had been up to) As we left the grounds, dad decided to take some photos of the pretty arch of trees.
Dad thought the photo shoot was over but I had an iPhone to tell the rest of the story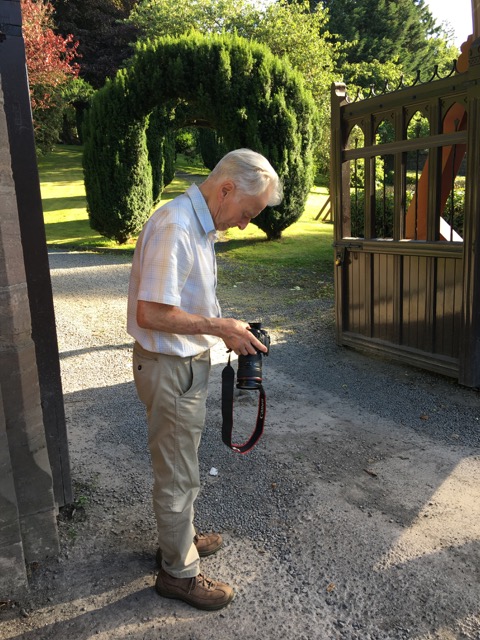 Aperture : white balance : settings checked!
I am glad I had some energy left as the next shot happened so fast I didn't have time to use any rules of thirds!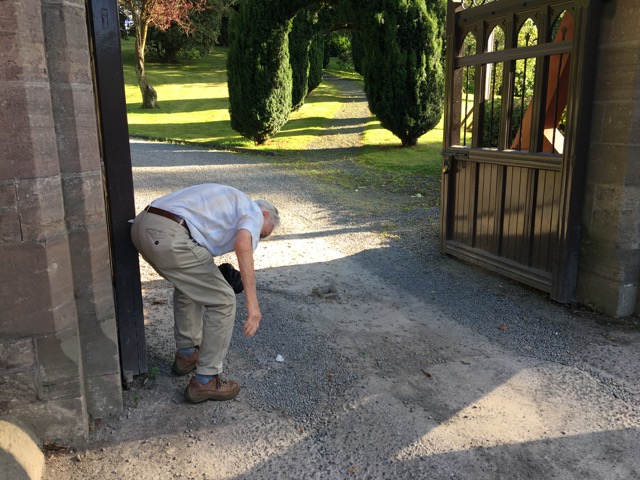 never leave home without a camera
Finally, I have to share a photo of one of my favourite letterboxes, set into a lovely stone wall. The pop of red made me smile and subsequently I had a blog to share today. I tested the slot with my dental appointment card but didn't post it ;)
I thought we were heading back to the car but there was a diversion to the river bank. I was perched on the wooden dock, hoping my plimsoles wouldn't fall off or I would drop in for dad's opportunity to take one of those shots! My director has a few more clicks but he missed the dragonfly I saw hovering over the reeds on the riverbed. I hope to share some project photos soon but need to decide if I should add them here, there or everywhere?