My blog post today could have been entirely different as the anniversary of our blog approaches later this month, renewal with our web host have been dwelling on my mind. I feel a great sense of responsibility in maintaining our blog and know of recent times I have failed to keep my promise of sharing our days which we planned to go out with our cameras. The photos of nature and scenery still haven't appeared on our blog, hence my post today was going to announce that we would be hibernating our site for the foreseeable future. Without going into boring details, I would love to share our adventures and photos from our part of the world but this year, in particular my energy levels haven't let us be out and about like previous years. We have hardly even used our National Trust and Forest memberships which also caused me to feel stressed. Suffice to say I had my notebook out and imaginary set of scales, weighing up the pros and cons to try and find a balance in how I was feeling and if I could possibly blog more with topics our readers will be interested in. I worried when I thought I had let everyone down by only posting knitting projects but these were all I had as knitting was like a therapy to me. I even felt lost in knitting groups as most can meet and enjoy the social part when I was alone and 'only knitting' I really appreciate friends from the groups I was active in who have left lovely comments on my projects and the closer friends who message me and even knit along with me in mini KALs.
Today I had a chat with dad and we have decided to keep our blog for a longer time and trust anyone who still visits will enjoy blogs, long or short, out or in and most definitely from my heart. We have photos to share today which aren't knitting related and ones that came out of the unexpected. A few weekends ago there was the annual specialist plant fair at Mount Stewart. I had promised dad all year we would go back as it was an excellent weekend last year. This year however when we arrived, we discovered we could count on one hand the specialists who had setup. I was disappointed as we had made an effort to go after being at an appointment that morning and I was feeling tired. We don't know what happened but can only presume there must have been a lack of support last year to make the journey across the water too expensive for the specialists who came last year. This is something which helped to make my mind up on another event this year which I will refer to at the end of this blog (hopefully it will be a blog post on its own in August)
Why on earth did I think I couldn't blog as I have already typed too much for anyone to read! I guess I really would miss our blog. Back to our disappointing garden festival although dad was able to buy more spiral supports for our peonies. We wandered about the grounds and the photos will show our view, of a group of tourists, views and how they were enthralled with the gardens, taking photos of each other, listening to their guide who we really didn't understand! This made me think, we shouldn't have felt disappointed as there was beauty all around us and these people had travelled across the world to enjoy the beauty we had on our doorstep. We weren't intrusive but fascinated as the ladies and men really showed us around the grounds the day we thought we would be spending with plants and shrubs to buy.
It is with respect to the people in the photos that I am publishing the photos to share with you how other people see our world and how we see other people. I know this is something I have to learn to cope with better when I think of how others see me. If we had been able to speak the language we would have sent the photos to the tourists who made our day one to remember.
The 'lack of support' theory I referred to has given me the push to agree in advance and we have even purchased our tickets to attend the first ever yarn fest in Northern Ireland! I saw a tweet and the rest is history as dad zoomed me along to my iMac to purchase our tickets while my eyes were closing as it was late at night when I read the news! If we don't support this very small festival, there may never be another one. If the vendors come and are successful, perhaps there will be more next year. The group I belonged to on Ravelry all go to festivals and meet each other, I can never be part of this but never dreamt we would have one of our own. I will hopefully blog about this when we have been....watch this space!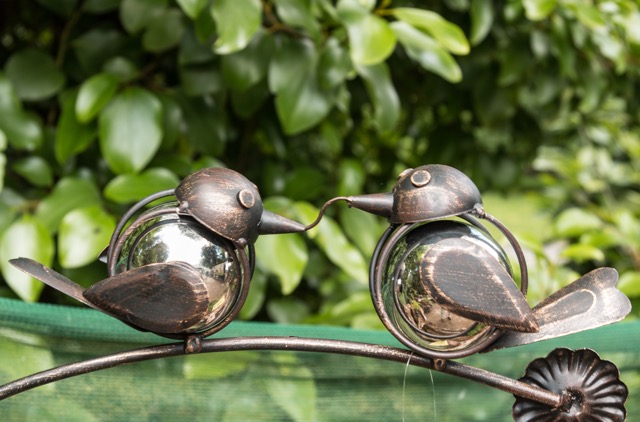 A little bird told me....
In the meantime, please enjoy the photos and thank you for reading my blog today.