I had added two dates to iCal 8th and 9th November, planning ahead to visit Castle Ward when Crafted had an craft fair planned which promised unique gifts and workshops. We almost made a mistake as the weather wasn't as forecast with the rain ignoring the fact it was the weekend! Saturday morning was dull and very wet. I had dressed to go but the rain just persisted. I decided to change and stay at home to get on with some knitting or continue setting up my iMac. Dad had different plans, I think he knew I needed a boost this week and knows my love of craft. I didn't have time to change again as off we went to Castle Ward.
The beautiful house in the grounds of hosted the craft exhibition. A perfect combination for a wet Saturday afternoon. We made our way to the regal doors only to discover the entrance was via the Servants' tunnel (not quite a scary in 2014 as it would have been in the good old days) I wouldn't locate the secret entrance we were allowed in by but we we thankful to get inside without having to retrace our steps. The artisans were exhibiting their work in different rooms of the house. The four poster beds were in some of the rooms all adding a special quirk to the experiment and need I say a lot nicer than being in a retail store. We went from room to room without pressure to buy and with all the encouragement to touch or hold the times we saw on display. To find a few selected crafts assigned to each room was a joy rather than one huge room when it's sometimes impossible to keep your mind focussed on one table. I enjoyed this aspect a lot and the fact the designers were so keen to talk about their work and explain their design process even down to some intriguing logos.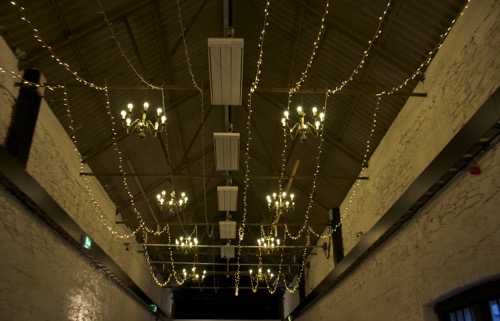 Some of the designers who were at Craft Fest in the summer time had tables at this exhibition. This was nice to see as we had witnessed some of them working in the stable yard creating the pieces we saw today. I loved the fact I could concentrate in each room without feeling I was in a crowed, noisy store. The only noise was the friendly chat of the artists and other people carefully selecting gifts to buy.
I have been going through some down feelings recently but meeting and talking to designers lifted my spirits. I love to craft myself and really do admire how much hardworking each of the exhibitors do in order to have a table for two days during Crafted and still have time to speak to people like me. I felt like the Queen as when I handled something dad knew I was drawn to he was over to pay the maker! The Queen doesn't carry her purse, well I began to think I shouldn't have brought mine either, although I did buy some special gifts for friends. I can't show all the things I bought or reveal what is under the wrapping as some of these will be gifts too. Buying gifts from local artists really means a lot to me and I enjoy selecting something I know my friend will love as much as I do rather than going for the 3 for 2 (say no more about this)
Both of us enjoyed the afternoon. I really felt boosted as we walked back to the car. I had the most wonderful conversation with Denise, the lady who had all the beautiful soaps and the balm for sore hands. I will be using this balm and anyone who knows me well knows exactly how sore my hands can be especially during winter. I was allowed to test it as many times as I wanted to plus I went back after washing my hands later to use it again and didn't feel I would get frowned upon. It is a dense balm but true to the assurance I was given once it was rubbed in my hands wouldn't feel gloppy or greasy. I have to say I think I am addicted already. I can recommend from my early testing of an intense healing balm which disappears, sounds contradictory but it is true. If you want to know how my hands go when they get really sore just use my contact form but if you would like to buy the balm before your hands gets sore then I am sure the lady will be more than willing to arrange this for you. Denise's website
While in was blaming my hands dad was chatting to John Peikaar, the wood craftsman. We had both looked at his beautiful work and off course my eye was drawn to two pieces, one for an iPhone and the other for an iPad. The wood was rich and so smooth. Quality was excellent and this was vital if I was to consider a stand like this for my new iPad. We went off to have coffee and a chat. Part of our chat involved the iPad stand and the next part was dad marching me along the servants' tunnel back to the room which had a fun iPad made from ply wood to exhibit the stand. Dad loves wood and I knew if he was impressed then the decision was made. I want to display my iPad in my room and this stand really was unique and special. I have to leave a link to his website as he takes commissions for different pieces but one thing for sure his iPad or iPhone stands deserve focus on our blog. John's website
Please click through to view each image
We enjoyed our first visit so much I am sitting typing this blog in bed in order to publish it tomorrow when I can take some photos of my purchases. I am super tired but the fact the people exhibiting at the exhibition made us feel welcome as we feasted our eyes on their work. True dedication and love for their craft was evident and words couldn't express the experience of early Christmas shopping while supporting local people. If it's too late for you to attend this year, be sure to mark the dates in your diary if this event happens next year. Thankful we didn't let the rain keep us at home. To think how many months the exhibitors take to create their display and if Castle Ward isn't too far away it's only a morning or afternoon of our time to go along to support each one of them by browsing and choosing which crafts suit best for gifts or home. We had one of the best shopping days this year. I am looking forward to giving my gifts and will be enjoying my treats after they have been displayed for the photos.
I will stop now to rest and be ready to upload the photos while there is one day left for people to attend Crafted 2014